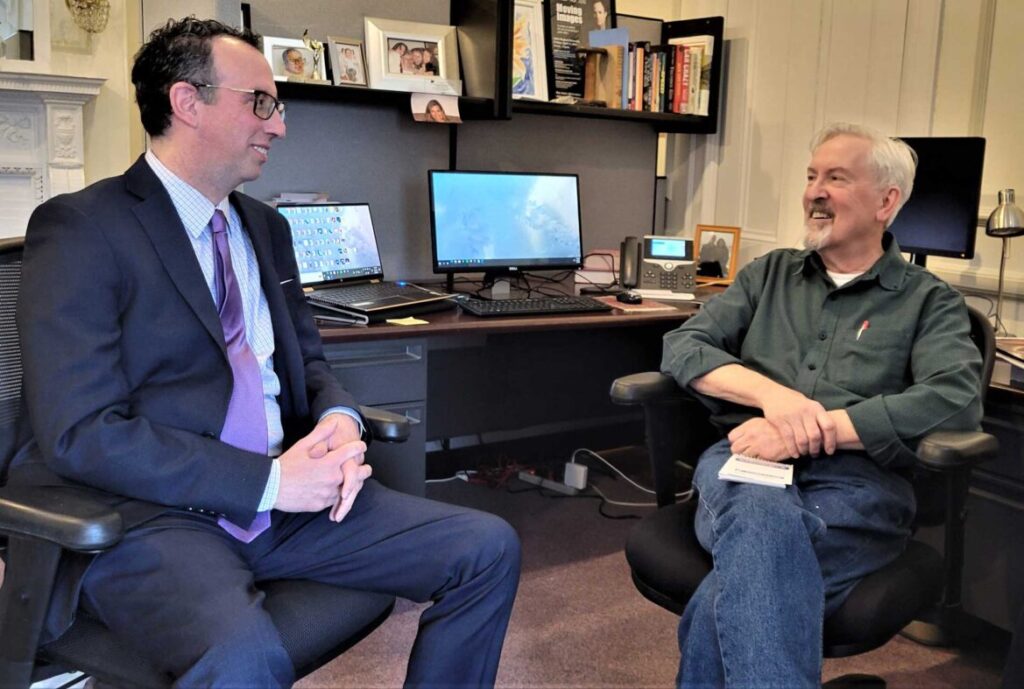 Versión en español de la historia
February 8, 2023
Dear Reader:
Welcome to Ocean State Stories, the new media outlet from Salve Regina University's Pell Center serving all of Rhode Island and the many diverse communities that comprise our state. Publishing weekly at the outset, we will bring long-form journalism on issues of importance to our statewide audiences – in both English and Spanish. We are non-profit and all of our content is free.
Ocean State Stories grows from fundamental changes in much of journalism—changes that undermine comprehensive coverage of topics essential to the common good.
As we stated in last fall's announcement, Ocean State Stories exists "against the national backdrop of increasingly endangered local reporting, a cornerstone of American democracy since before the founding of the republic. Layoffs, closures and sales of once-independent local newspapers to out-of-town chains and hedge funds have led to a rising number of news deserts and a reduction in coverage of issues of vital importance to residents of many regions."
We deem the situation dire – but hardly hopeless. Non-profit news organizations have opened elsewhere and are thriving. We have been able to join their ranks with the support of generous organizations and individuals including the Rhode Island Foundation, Alan G. Hassenfeld, Charlotte Metcalf, and Geraldine and Alfred J. Verrecchia. We extend our profound gratitude to them all.
Our focus, at the outset, is on journalism about issues that often are neglected or under-reported—stories that explore healthcare, education, public policy, socioeconomic and racial disparities and injustices, domestic violence, food and housing insecurities, ageism, suicide prevention, mental health, veterans affairs, and developmental and intellectual disabilities, among others. They will be told with data, expert input, and, most importantly, the personal experiences of Rhode Islanders. This form of storytelling on these and other issues were hallmarks of Wayne's four-decade career as a staff reporter with The Providence Journal.
Our expectations for Ocean State Stories are straightforward, if ambitious. We aim to publish stories that matter: stories that raise awareness and inspire change and contribute to a world where we greet our neighbors with empathy.
Along the way, we want—we need—to hear from you: your ideas on issues and people we should cover, about how you think we are doing, and anything else that might help us better inform Rhode Island. And if you think our effort is worth your support, you can make a tax-deductible charitable donation by clicking here.
Finally, while Ocean State Stories will feature Wayne's award-winning reporting, we are also seeking established freelancers and aspiring journalists to write for us. Unlike some outlets that cater to citizen-journalists, we pay for freelance content. With lessons from a long career in the profession, Wayne will mentor aspiring journalists as well.
This project is built on the simple belief that citizens still want to be informed with more depth, nuance, and credibility than can be mustered in social media. In the weeks and months ahead, we'll bring you stories that matter—beginning today.
Welcome to Ocean State Stories.
G. Wayne Miller Jim Ludes
Director, Ocean State Stories Vice President, Strategic Initiatives
Pell Center Executive Director, Pell Center
Salve Regina University Salve Regina University
Reach us:
Ocean State Stories
The Pell Center at Salve Regina University
100 Ochre Point Ave.
Newport, RI 02840-4192
Do you support local, independent journalism telling stories that matter?
You can make that support tangible with a tax deductible gift to support Ocean State Stories.