'It's a great opportunity for kids, especially people of color, 'cuz we don't really have the same opportunities as other people'
PROVIDENCE – Rexella Bishop, who is beginning her junior year at Central High School, spoke with enthusiasm about her ambition to become a doctor — and the advantage her enrollment in an innovative program will give her as she pursues that career.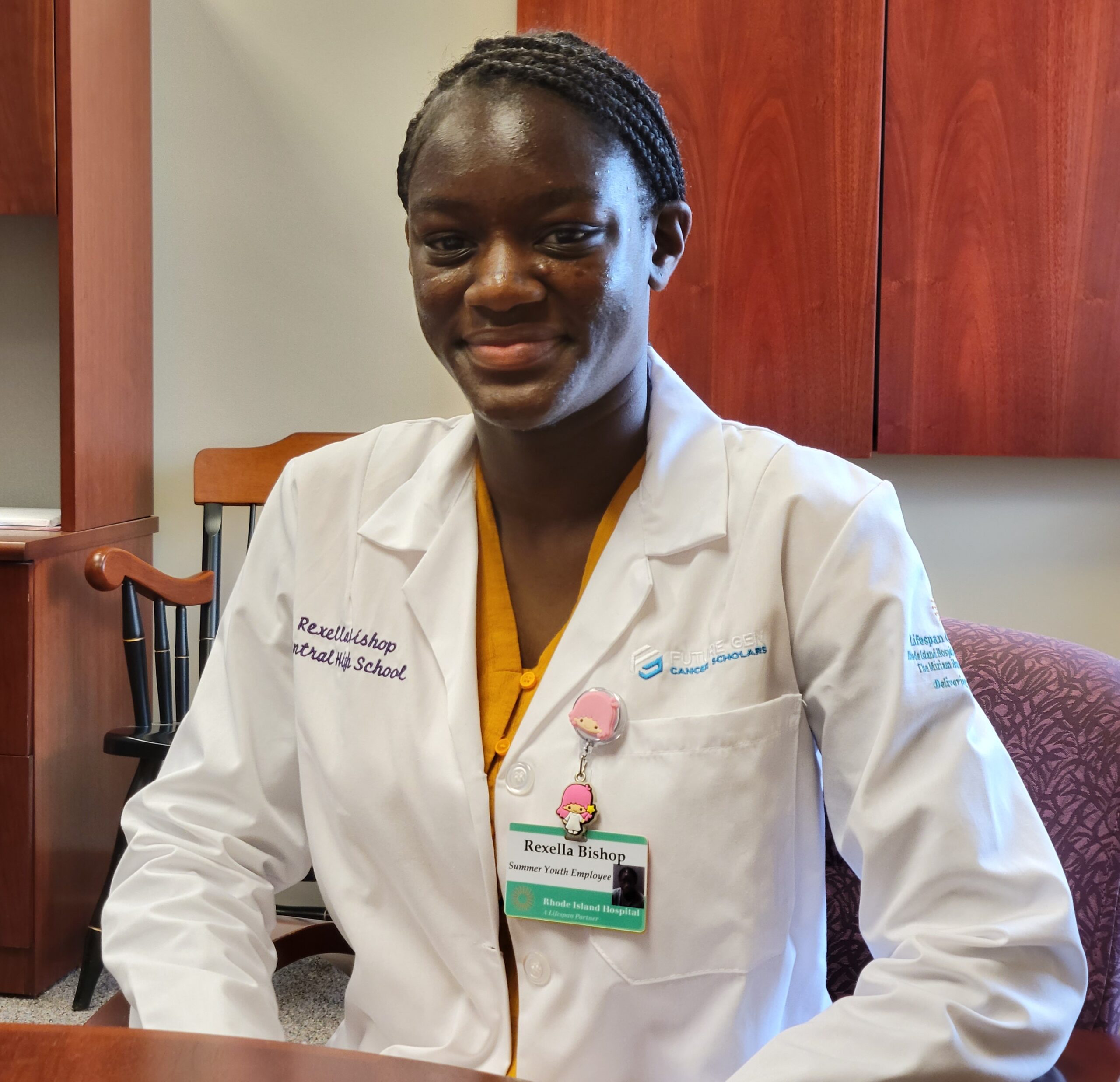 It was a Monday in mid-summer and Bishop, together with 19 other high school students, was at Rhode Island Hospital for the start of another week in Lifespan Cancer Institute's Future Gen Cancer Scholars program. The program includes classroom instruction and shadowing of Lifespan physicians and scientists at Rhode Island, Miriam and Hasbro Children's Hospitals.
"Ever since I was small, I knew I wanted to be in the medical field," Bishop told Ocean State Stories. "But most of the time when people think of the medical field, they think they want to be a nurse or something like that. But I always knew I didn't want to be a nurse.
"We love our nurses because nurses are very essential, but I just didn't want to do that. I wanted to be a little bit more and so then I thought, 'I want to be a doctor.' "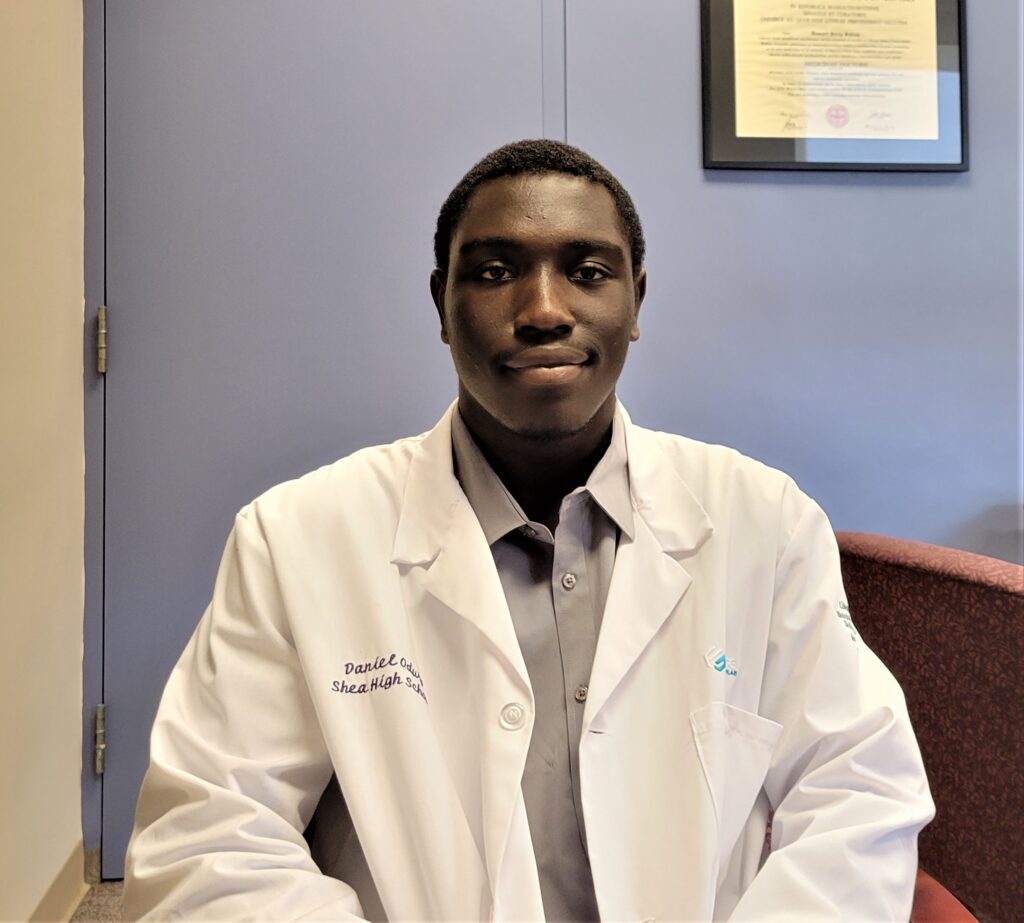 So does Daniel Oduro, an immigrant from the west African nation of Ghana who is a junior at Pawtucket's Shea High School. He learned about Future Gen, which pays a $2,500 salary and covers transportation costs, among other benefits, talking with a teacher at Shea.
"I told [my teacher] I'm interested in surgery and chemical engineering," said Oduro, who hopes to attend Harvard. "He told me this program will be very good for me. I give thanks to him. In this program, I learn a lot. It gives me a lot of experience."
Supported by a grant from Papitto Opportunity Connection, Future Gen enrolls its students from the urban core communities of Central Falls, Pawtucket and Providence. All 20 are young people of color.
"This is an incredibly forward-thinking program with the power to change not only the lives of young people in our community, but also the face of cancer care in Rhode Island and beyond," John Fernandez, president and CEO of Lifespan, said in June when announcing the program.
"Lifespan is home to some of the country's leading minds in cancer medicine and research, and to expose students to their tutelage and to real patient experiences with the goal that they pursue a career in the field is a gamechanger. We are beyond excited to welcome these teens to campus this summer."
The 20 students were nominated by their schools and selected through an application process. In addition to Shea and Central High, they attend 360 High School in Providence; Central Falls High School; Providence's Classical High School; William M. Davies, Jr. Career and Technical High School in Lincoln; and Juanita Sanchez Educational Complex and Mount Pleasant High School, both in Providence.
That mid-summer Monday began with presentations by Dr. Thomas A. Ollila, a Lifespan hematologist and oncologist, and fellow Lifespan hematologist/oncologist Dr. Rabin Niroula. A lively discussion with students followed.
Ollila began with the role other specialists play with cancer patients.
"Dr. Niroula and I, as hematologists and oncologists, come up with the treatment plan and guide people through treatment," Ollila said. "But the pathologists are the ones who really figure out exactly what we need to treat. We can't come up with the best plan without having the very best diagnosis. And it's often a lot trickier than you think.
"So, does anyone know anyone who's had cancer? And can you think about how that person first learned about it and the steps they went through 'til they knew for sure what was going on?"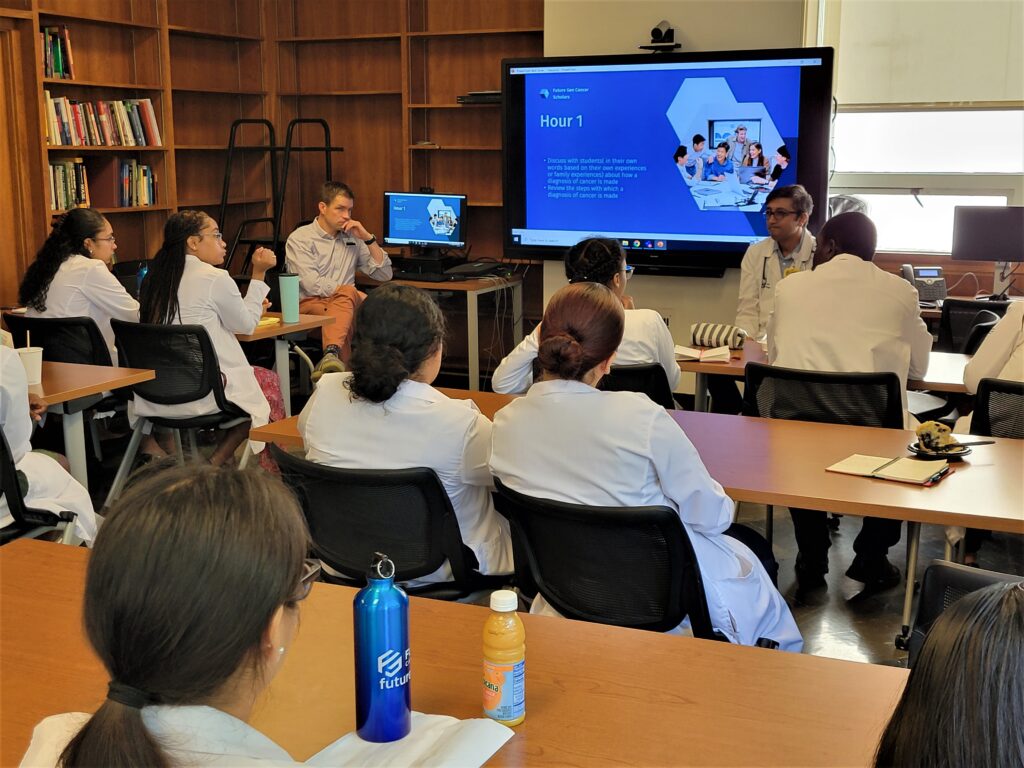 Said Niroula: "That could be anybody, your friend or whoever you observed over the last week or so in the clinic."
A student told of a patient she'd seen the week before who'd experienced abdominal pain, internal bleeding and jaundice.
"They were diagnosed with stomach cancer," the student said.
"You brought up a lot of important points," Ollila said. "So how do we make a cancer diagnosis? We've talked about imaging, but when we did, we kind of skipped over one of the most important things and that's taking a history.
"So, ask questions. That person was having abdominal pain — that was a big symptom and so was jaundice. [Conduct a] physical exam. What do people look like? What is their stomach like when they push? Can you feel a mass that shouldn't be there? When you press on your own stomach, it should be pretty soft."
Another student volunteered that her grandmother had been treated for breast cancer.
"Do you remember what steps were taken for diagnosis?" Niroula said.
The student wasn't sure.
"Okay, what do you think would be the steps in diagnosing?" the doctor said,
A CT scan, a student said.
Niroula agreed.
Another student suggested surgery.
"Surgery could have been part of treatment or radiation could have been part of the treatment," the hematologist/oncologist said.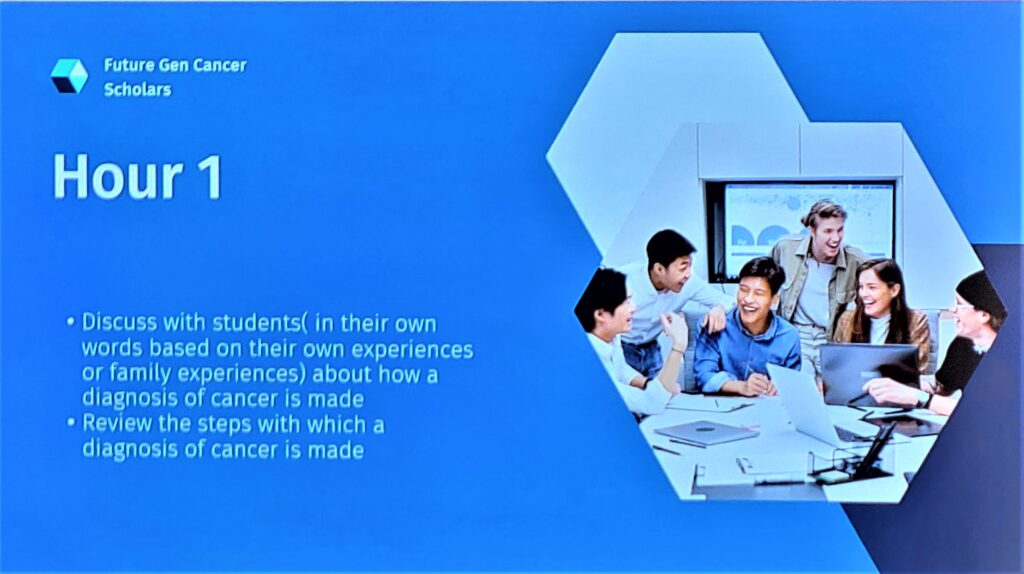 In an interview, Alexis Devine, Lifespan Workforce Development Program Manager, outlined the full range of benefits Future Gen students receive. They transcend the strictly medical career-building.
"What we decided was let's make them actual employees, not interns but actual employees," she said. "They may be performing duties of an intern but I personally don't think so. I think they're doing very high-level work."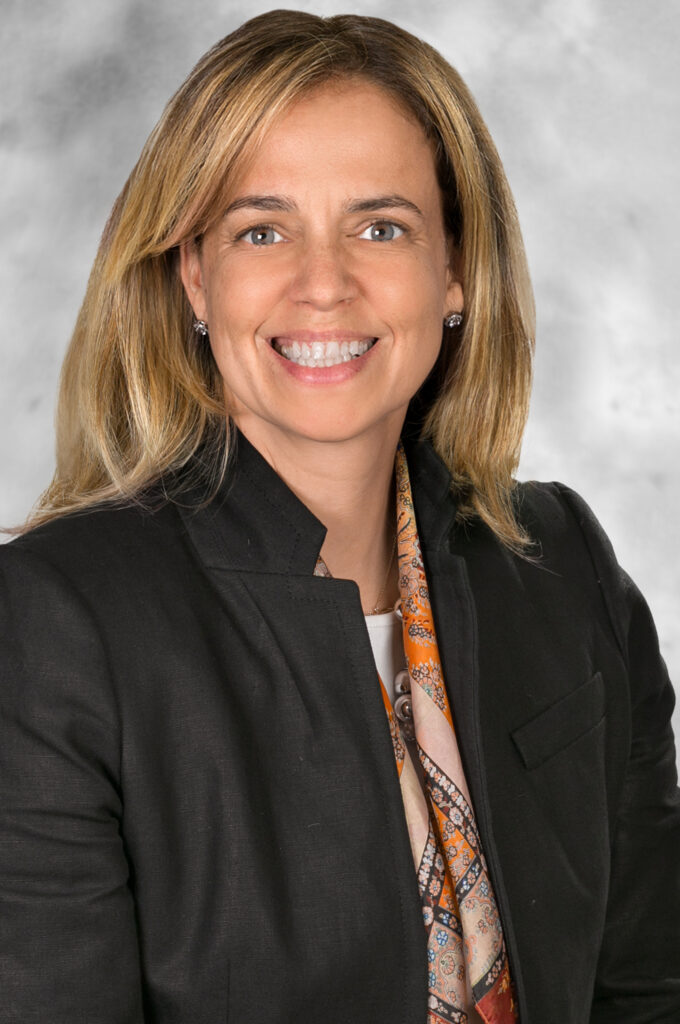 By putting them on the Lifespan payroll at the healthcare system's minimum wage, $17 an hour, Devine said, "they're learning what it's like being an actual employee. They're learning about paying taxes and they're going to learn about W2s at the end of the year. They're really getting socialized at a young age for direct deposit, having a bank account," even retirement plans.
According to Devine, the students will remain classified as Lifespan employees during this school year, which will qualify them for financial literacy and other workshops.
And while the details have yet to be ironed out, Devine said the students will be returning to the hospitals this fall, winter and spring, "to come back in to go to labs and things like that. So, when they do that, they continue that experience. Maybe it's ten times this year but they're going to do it as employees. They are then going to go into full-time [again] next summer so they'll stay employees."
Rexella Bishop laughed when she was asked what piqued her interest in surgery.
"I watched Grey's Anatomy a lot," she said. "Obviously it's not real because it's a TV show but it's a pretty real example of what surgeons do day-to-day."
A particular influence, she said, was the character of Dr. Addison Montgomery, played by actor Kate Walsh.
"She's a neonatal surgeon," Bishop said. "She does surgery on babies and watching her, I kind of just fell in love with what she does. There's not a lot of people who do that."
Bishop expressed gratitude to Ollila, Niroula and the other medical professionals "who donate their time" and spoke of the Future Gen's mission.
"It's a great opportunity for kids, especially people of color, 'cuz we don't really have the same opportunities as other people," she said. "A lot of us want to go into the medical field but it's kind of hard to have that background. This program gives us the chance."
Said Oduro: "All students who wish to join the medical field should have this experience."
---