'Don't doubt yourself. You have so much to offer the world'
EAST PROVIDENCE – Sylvia Parrott entered Rhode Island's foster-care system when she was five years old. For more than a decade, Parrott, 22 now, said she "bounced around from different parents, different caretakers."
After a hospital stay "because I was sick," Parrott told Ocean State Stories, the state Department of Children, Youth and Families "put me in a group home and then I just bounced around from different group homes."
Although other children find in foster care the stability and nurturing needed for healthy development, Parrott did not. When she became a legal adult and was no longer bound to DCYF, her life could have unfolded as some others who have exited foster care have: with homelessness, joblessness, financial insecurity, and involvement with the criminal justice system.
But thanks to the strength she found in herself and with the help of Foster Forward, a nationally recognized organization devoted to improving the child welfare system and those involved in it – youngsters and their relatives, foster families, social workers, advocates and others – Parrott has become an exemplary member of the community.
She has also become a cherished employee of Foster Forward whose work positively impacts many, according to the organization's executive director, Lisa Guillette.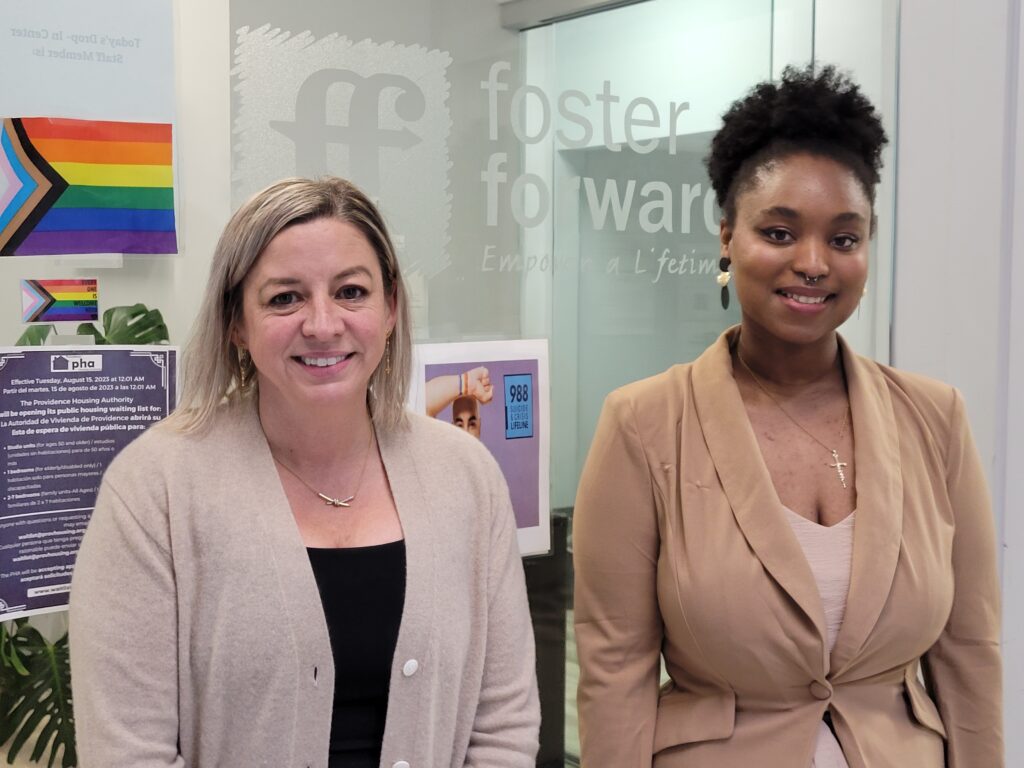 "In her role as a Peer Support Specialist, Sylvia draws upon her lived expertise when she greets a new guest at our Drop-In Center," Guillette said. "She understands how hard it can be to ask for help and she knows how to connect in a way that is inviting but not intrusive."
Guillette said Parrott has become an accomplished speaker, as well, including a recent appearance on an Economic Progress Institute (EPI) panel.
"Put a microphone in her hand and Sylvia's superpower is her ability to disrupt the status quo by challenging others to authentically share power with those most impacted by human service systems," Guillette said.
"Whether speaking on the [recent] Dreamers Panel at the EPI Conference or addressing a group of doctors regarding key things to know about foster youth who are transitioning from pediatric to adult practices, Sylvia offers thoughtful and pointed insights that prompt reflection and inspire positive change."
"I've gone through a lot of stuff and I've been in places with a lot of caretakers that didn't take care of me," said Parrott.
"My ultimate goal is really just to be independent and be able to take care of myself. That's what keeps me motivated and keeps me going — and also doing this work as well. As hard as it can be sometimes, I know that I'm good at it. I have passion for it so that keeps me driven."
Foster Forward began 28 years ago as the Rhode Island Foster Parents Association. Trained as a social worker, Guillette became executive director in 2003 after a decade working in special education.
"I was taking over an organization that had been founded in 1995 by a group of foster parents sitting around the kitchen table," Guillette said.
"Collectively they didn't see a unified voice for kids that were in foster care and the families that were caring for them both by way of providing mutual support and making sure that the families and the kids were adequately resourced."
Nor did these parents see "a policy voice for what was going on in this child welfare system," Guillette said.
In 2012, the association changed its name to Foster Forward to reflect what Guillette calls its expanded mission "to empower lives impacted by foster care" with "an unwavering commitment to support children and youth, families, and the child welfare system as a whole, to grow, connect, improve, and move forward," according to the organization's website.
Today, Foster Forward serves about 500 young people annually through housing that the organization provides and several other programs, including:
● ASPIRE, which stands for "Aligning Savings, Permanency, Information, Resources, and Empowerment."
Among other help, this program offers nine hours of classroom-based financial education, individual financial coaching and $100 to open an Individual Development Account, a special bank account through the Social Security Administration designed to help pay for education or start a business. Foster Forward will contribute up to $1,000 a year to the account for young people who want to enroll in college, purchase a car or pay down healthcare debt.
● Real Connections, "a mentoring program that connects foster youth, ages 18-26, with positive, long-term adult role models," according to Foster Forward.
● Adult education, where enrollees can earn their G.E.D.
● Works Wonders, which prepares enrollees for employment by means of skills training, career coaching and "paid work-based learning opportunities (like internships, job shadows, and informational interviews)," according to Foster Forward's website, which asserts that "last year, the amount of youth employed following program participation increased by 109% (from 23% to 48%). And for those who were already working, young people report important increases from part-time to full-time and approximately a 10% increase in the average pay rate after participating."
● A Community Storefront in Pawtucket that offers "new and gently used clothing, furniture and other supplies for free for foster families and the children and youth in their care," according to Guillette.
Over the years, Foster Forward and its programs have been publicly praised by, among others, former Governor Gina Raimondo; NBC 10, which last year chose it as a winner of the NBC 10-Citizens Bank Champion in Action competition, an honor that included a $35,000 donation to the organization; and the Ash Center for the Democratic Governance and Innovation at Harvard Kennedy School, which in 2018 awarded it $50,000 as that year's winner of the Innovations in American Government Award.
State Sen. Louis P. DiPalma, who chairs the Senate Committee on Finance and is a member of the Senate Committee on Education, is another vocal supporter of Foster Forward. On Tuesday, he told Ocean State Stories that the organization "does tremendous work, for youth involved with the foster system and also for young men and women aging out of the system. They are tireless in their mission to improving the foster system for children in care, but their work goes well beyond that.
"An 18-year-old may be an adult in the eyes of the law, but the reality is that they need a range of supports to help them navigate the world and achieve their potential. Foster Forward helps ensure young adults emerging from the foster system receive that needed support. From life skills like opening a savings account, to mentorship and educational opportunities, Foster Forward is helping these young men and women overcome challenges and flourish. Lisa Guillette, the executive director, and her incredible team are an inspiration for those of us who have had the privilege to observe their work. For them, it's more than a job, but a calling, which they answer with selfless dedication, passion and compassion."
Guillette and Parrott recently brought Ocean State Stories on a tour of Foster Forward's East Providence headquarters.
The visit included a stop at the Drop-In Center, where young people experiencing housing instability or homelessness can shower, do laundry, get a hot meal, take advantage of a food pantry, find clothing, have access to computers, get free Rhode Island Public Transit Authority tickets and more. There is no charge for any of these services.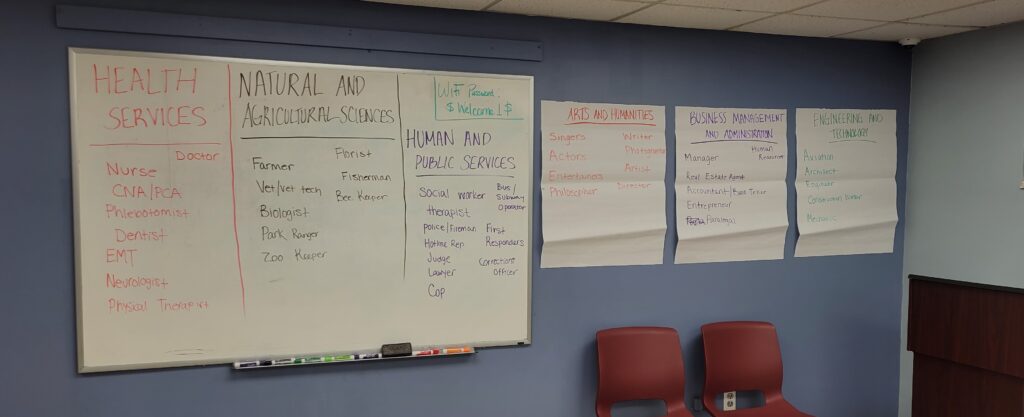 The tour also brought Ocean State Stories through a podcast studio that will soon be producing episodes and a conference room, where posters from a recent class on potential professions hung on a wall. Jobs in health services, natural and agricultural sciences, human and public services, arts and humanities, business management and administration, and engineering and technology were listed.
A graduate of Providence College, Guillette spoke of how the decade she worked in special education "started to open my eyes to privilege that I had experienced — the way that the world had opened up for me in ways that it didn't open up for other people.
"As I continued in my career, I really started to understand the systemic and structural inequities, the racial wealth gap, the equity gaps. And now what I've realized is leadership is a lot more about empowering the people who are closest to issues and using the privilege that I have to access resources and put all the pieces together."
One of Parrott's realizations since she found Foster Forward is also personal.
"I was in my own way for a very long time and I just couldn't take accountability that the reason why my life wasn't on track was because of my decisions," she said. "A lot of those who have experienced foster care are blinded by anger, grief, whatever it is. They have tunnel vision; they only see that moment."
But that, she said, "is not your end destination. It's temporary. So I would say to someone who's experiencing foster care: 'Don't doubt yourself. You have so much to offer the world.' "