Stacks of yellowing newspapers cover every available surface in this storefront painted a light shade of blue. Boxes of magazines spill into the back hallway, just a little bit short of a tripping hazard. This place, the office of the Warwick Beacon, is effectively a shrine to local news past and present.
A whirring, rhythmic sound of warring typing and a soft gentle lull of gossipy chatter fills this newsroom. As an undergraduate student, I am the youngest by far. The rest of the faces in the newsroom are weathered more than mine. They have a familial relationship with each other. They talk about their summer plans– going to cookouts with their families by the shore– between interviews and sales calls. The friendly gossip in thick Rhode Island accents makes this place feel lively.
John Howell, the editor and publisher of the newspaper, moves through the space and the city with an unparalleled force. He's about 80 years old with bushy eyebrows and a determined, curious charm. I've had the honor to accompany him around Warwick, his domain. When driving around in his blue Subaru listening to classical music, he points and explains the landmarks of the city. He's lived here for decades and knows everything about everywhere: the history and how things have changed.
He also knows the people. On my first day, Ed, the reporter who sits across from my desk, told me that if I ever needed to contact someone within Warwick, I should just consult John's phone contacts. When I interviewed the city planner for my first article, he said that John probably knew better than he did about what the city planned to do.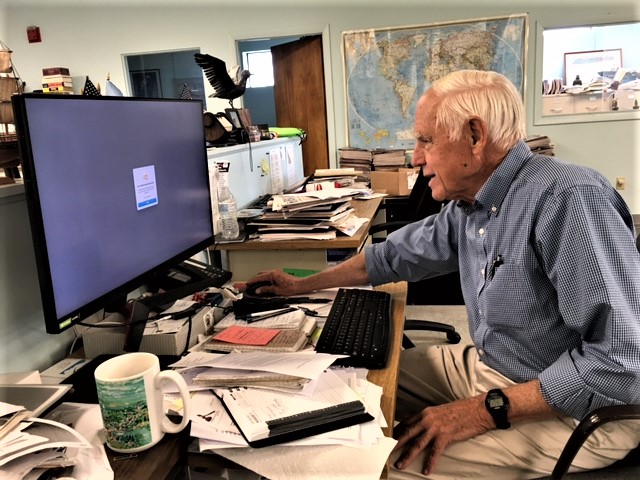 John is a newspaper man. He wears that label like a badge of honor. He prides himself in knowing everything about the proceedings of the city, from what happens in the mayor's office to the residential neighborhoods of Warwick. He'll get a story idea in line at the hardware store, and he'll pull over to the side of the road just to snap a photograph. I've grown to admire his dedication, his attention to detail, and his commitment to deliver the truth.
A few weeks ago, John drove me around Warwick, taking me on a tour of the beaches in the area. We stopped first at Gaspee Point. We were the only ones on the beach. The water from the bay gently lapped on the flat beige shore as sand crept into my sandals. The hazy storm cloud ridden sky refracted the sun in rays of oranges and pinks and yellows. It wasn't even sunset yet. It was beautiful. We drove next to Conimicut Point, stopping at his house on the way. It was an old yellow house with a wrap-around front porch. He exclaimed "It's big, isn't it" as we pulled into the driveway. He told me that it was built in 1895. It was perfect. The back porch looked out onto the water. There was a swimming pool. He told me that he rows on the bay every morning. I asked if it was peaceful. He said sometimes.
To me, his story makes a compelling argument for local news. This weekly newspaper may not be the first publication to break the news of a local fire or budget cut, but with its connections, it gets a different story: the human element of the story.
I've always known that journalism is fast. It's unrelenting persistence. It's reaching out to twice as many people as you think you'll hear back from. It's continuing to call, email and show up when met with "maybe laters" or "I don't knows." Hard work and dedication is the name of the game.
But from my experience this summer, I've realized that journalism can also be a slowing down. It's listening, observing and grounding everything in the community. There are stories in unexpected places that can be uncovered by stopping to have a friendly conversation. Every person here has layers that careful attention reveals. A banker planned the local parade and rode in a convertible in colonial garb, waving at the crowds on either side of the road. A non-profit director and lifelong musician opened a piano bar in the same neighborhood she grew up in. These stories are not breaking news. They exist beneath the surface. But they are compelling and deserve a place to be told.
John Howell's Warwick Beacon, Cranston Herald and Johnston SunRise are publication partners of Ocean State Stories, which this summer published two stories by Dana Richie, a Brown University student and staff member of The Brown Daily Herald: one on homelessness and the second on the RI Youth Theatre.