'It forms an incredible bond of sisterhood, because you've found your people'
This story originally was published in the Warwick Beacon, a publication partner of Ocean State Stories.
By ADAM ZANGARI
Receiving the diagnosis
Elena Coccio first noticed the weakness in her right hand last December.
Her initial thought was that she had multiple sclerosis, or MS, the same disease that her grandfather had. By the time March came around, she could no longer move her right arm, and she knew she had to get checked out. The diagnosis that came was devastating.
Coccio was diagnosed with Amyotrophic Lateral Sclerosis, better known as ALS, at only 26 years old. Also known as Lou Gehrig's Disease, ALS affects a person's brain and spinal cord, leading to them no longer being able to control their muscles, eventually losing the ability to eat, speak and breathe. There is no known cure. It is a terminal diagnosis. The life expectancy for those diagnosed is two to five years.
The Cranston native found herself in a lonely position, as the only woman in Rhode Island under the age of 35 with the disease. As someone with an FUS gene mutation, Elena specifically has what's considered a "nano-rare disease"- which is a disease mutation that have been detected in fewer than 30 people worldwide.
The CDC estimates that just under 30,000 people in the U.S. have ALS, with slightly more men than women diagnosed. Erin Gill, clinic coordinator at the ALS Association of Rhode Island, said that the Association serves approximately 100 patients from Rhode Island and southeastern Massachusetts, although that does not include those treated at the Providence VA Medical Center.
The diagnosis meant giving up on a lot of Elena's dreams. She had just graduated from Rhode Island College with a degree in social work, and was working at Cedar Crest Nursing Home as an activities instructor. Moving out of her family's home and into her own place was no longer an option.
"We spent a lot of time grieving the life she would have had," Liz Coccio said. "But we really try to stay focused on today. If today is a good day, then we can make tomorrow a good day."
Liz, Elena's mother, has become her primary caregiver. She's a nurse at Rhode Island Hospital, and credited her boss with making sure she could do a lot of her work at home to take care of Elena alongside her patients. At home, she works alongside Elena's father, Ed, her two siblings, and some of Elena's friends.
The Coccio home has changed with Elena's diagnosis. Replacing their front staircase is a ramp, and a stairlift has been installed to help Elena reach the house's top floor. Any technological advances, though, can only go so far.
"The only time Elena's comfortable is when she's in her bed, because she can't hold her head up," Liz said. "So, you know, people have to go to your bedroom. It's not like you're out there and can see anyone."
In order to help combat that isolation, Liz has helped set up events such as the recent matinee of "Go On, Be Brave" at Apple Cinemas.
The movie showing was part of an effort from Liz to help support her daughter, as well as show her how much support she has in the local community.
"The one thing we could not do without is family and friends' support," Liz said. "I can't believe people who I was only acquainted with, people who I haven't seen in 20 years are coming by, bringing food, sending gift cards. It's crazy."
Medical support has been crucial to the Coccios as well, with Liz seeing a specialist in New York City and taking jacifusen- a drug currently under clinical trial that her specialist, Neil Shneider, hopes can slow the progression of the disease.
Even with the support, though, the day-to-day reality for the Coccio family is not one that is easy to bear. The disease has already progressed quickly, according to Liz, and Elena will need to go on a feeding tube within the next couple of weeks.
"If you've got to hit a lottery, I don't know why we had to hit that one," Liz said.
Racing against her body
Fifty marathons in fifty states, having beaten an initial timeline of about fifty months left to live.
Andrea Lytle Peet set that goal for herself in 2019, five years following her initial diagnosis with ALS.
She had already defied the odds, and said after waiting around to die following her diagnosis, she was now looking to live.
"I want to live life to the fullest," Lytle Peet said in the movie. "I have been given a gift of time that people with ALS don't have. And I've been given a perspective of how quickly it can all be taken away that heightens some of my joy."
Her journey to complete that goal has been the focus of "Go On, Be Brave," which premiered on Feb. 15 of this year.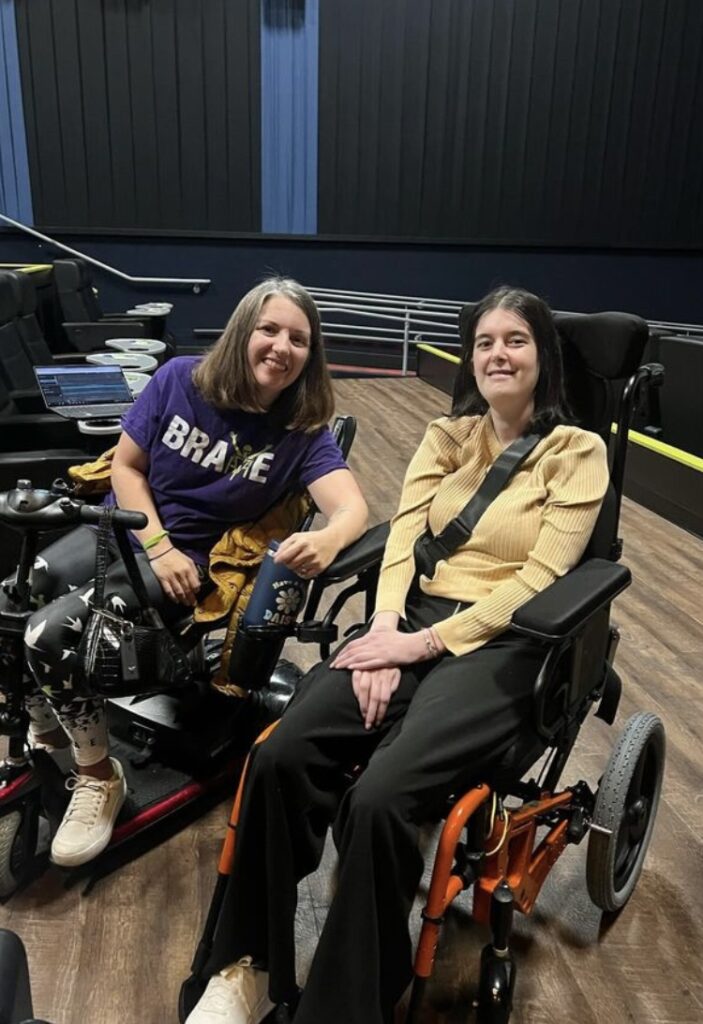 The journey officially began in Lytle Peet's hometown of Raleigh, North Carolina, with the City of Oaks marathon. Since then, with the help of her husband David and a recumbent tricycle that she uses in the races, her journey across the country has taken her to communities both large and small- and allowed her to connect with those that ALS has affected in all of them.
Rhode Island was the 27th stop on Lytle Peet's list, as she participated in the Newport Marathon. While that may not seem significant at first, traveling to the Ocean State held a special meaning to her.
While in Newport, she was given the opportunity to spread the ashes of her inspiration, Jon Blais, on the beach. Blais, a native of Seekonk, was the first person with ALS to complete an Ironman Triathlon, accomplishing the feat in 2005.
"He was the one who inspired me to keep racing after I was diagnosed," Lytle Peet said. "To be able to bring him home and spread his ashes where I know he loved meant a lot."
Throughout the journey, Lytle Peet faced uncertainty not just from ALS complications, but from other factors- such as the COVID-19 pandemic, and questions about whether she could qualify for the Boston Marathon due to the type of tricycle she uses. While she was unsure if her body would hold up enough to reach her goal- and whether or not she would survive to see the end of the challenge- Lytle Peet managed to complete her goal on May 28, 2022, finishing the Prince of Wales Island Marathon in Alaska with multiple members of the ALS community in attendance.
For Lytle Peet, finishing the challenge was special not just because of her personal accomplishment, but also because of the hope that it helped provide for those who have been affected by the disease.
"ALS is like getting a big fat no," Lytle Peet said. "No cure. No treatments. No chance to have a family. No hope. Nothing. I have to make my own hope. I'm just not as willing to accept no anymore."
Lytle Peet, like Coccio, received her diagnosis at a young age- 33, to be exact. The challenges that that has caused for them at a time when not many people are diagnosed with the disease has helped them and many others in their position make a connection.
"If we share our experiences, then maybe that will help someone to go back to the neurologist and better know which questions to ask, or better know how to advocate for yourself," Leah Stavenhagen said.
Creating a community
Stavenhagen is the founder and president of Her ALS Story, a support group for women that were diagnosed with the disease under the age of 35. She was diagnosed in 2019 at the age of 27 after having noticed symptoms for a year prior.
She started Her ALS Story in April of 2021, primarily to help build a community of other women who have had to rethink their lifelong hopes and dreams in the face of an ALS diagnosis at that point in their lives.
"I really just couldn't find others to connect with, so I tried to fill that hole," Stavenhagen said. "It's an incredible network that we have now- to advocate, but also have mutual support to live our best lives."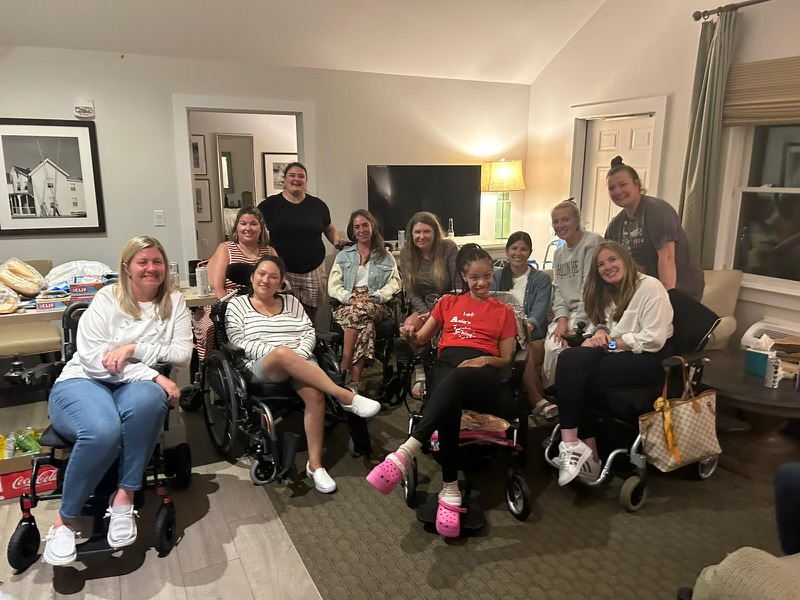 While the group started with twelve members, it has since grown to triple digits, including members in places as far-reaching as Brazil, Singapore and Estonia. Stavenhagen herself splits her time between New York City and Paris, France, where she was living when she first noticed her symptoms.
Even with a group that spans multiple continents, though, building that sense of community can be difficult due to geographic reasons. Elena is the group's only member from Rhode Island, and the nature of ALS itself, Stavenhagen noted, is also an isolating one, due to the challenges that simply moving around presents.
"That feeling of togetherness- there's not really any feeling to replace this," Stavenhagen said.
Her ALS Story is run in its entirety by women with ALS, which limits what they can do in terms of resources and equipment. Stavenhagen said that sometimes the group has to remind themselves that they aren't doctors, and there's only so much that they can do in certain situations.
Peeling back the curtains to their lives and how ALS has affected them, though, is a major focus of Her ALS Story. Stavenhagen said that she wanted to show that ALS can affect anyone- regardless of age, race or gender- and put a different face on the disease.
"It's been pretty incredible to see positive feedback from our community," Stavenhagen said. "The women in it are appreciative to find someone they can relate to, and a community beyond that."
It's a community that Liz and Elena found shortly after Elena's diagnosis, and one that has been pivotal to them in Elena's battle with ALS.
The Her ALS Story group chat includes up to hundreds of new messages each day. While topics tend to be somber- unavoidably so- Stavenhagen said that overall the group is a positive one, with a bit of dark humor included to help bring the mood up. That positivity is incredibly valuable to helping overcome the day-to-day trials and tribulations that ALS patients face.
Last month, Her ALS Story organized a retreat in Cape Cod, where 28 members and their caregivers, including the Coccios, Stavenhagen and Lytle Peet, got the chance to meet in person.
"It was quite a herd of young women in wheelchairs going down the street," Stavenhagen joked.
The retreat was Her ALS Story's second, with one being held in 2022 in Madison, Wisconsin, the hometown of Erin Vierstra, an early member of Her ALS Story who passed away in June.
It was one to remember for all of the attendees.
"Those girls can party," Liz said. "They were up until three in the morning."
The number of members able to make it to Cape Cod was only a fraction of the total group- in large part because of the challenges that traveling with ALS imposes. For those that were able to make it, though, getting to finally meet some of their compatriots in person was an incredibly impactful experience.
And capturing those moments of joy- being able to put their condition aside for a moment and have a special night out with friends- is something that left a strong impression on Stavenhagen.
"It forms an incredible bond of sisterhood, because you've found your people," Stavenhagen said. "These aren't people you would've been able to connect with otherwise, and we left with all this love for each other."
Fighting together
One of Elena's bucket list items, according to Liz, was renting out a movie theater. And thanks to her family's efforts, the Warwick showing of "Go On, Be Brave" sold out well in advance of its Oct. 29 run date.
"Especially with it being my daughter, I think a lot of people really care about her and care about her condition," Liz said. "It's amazing."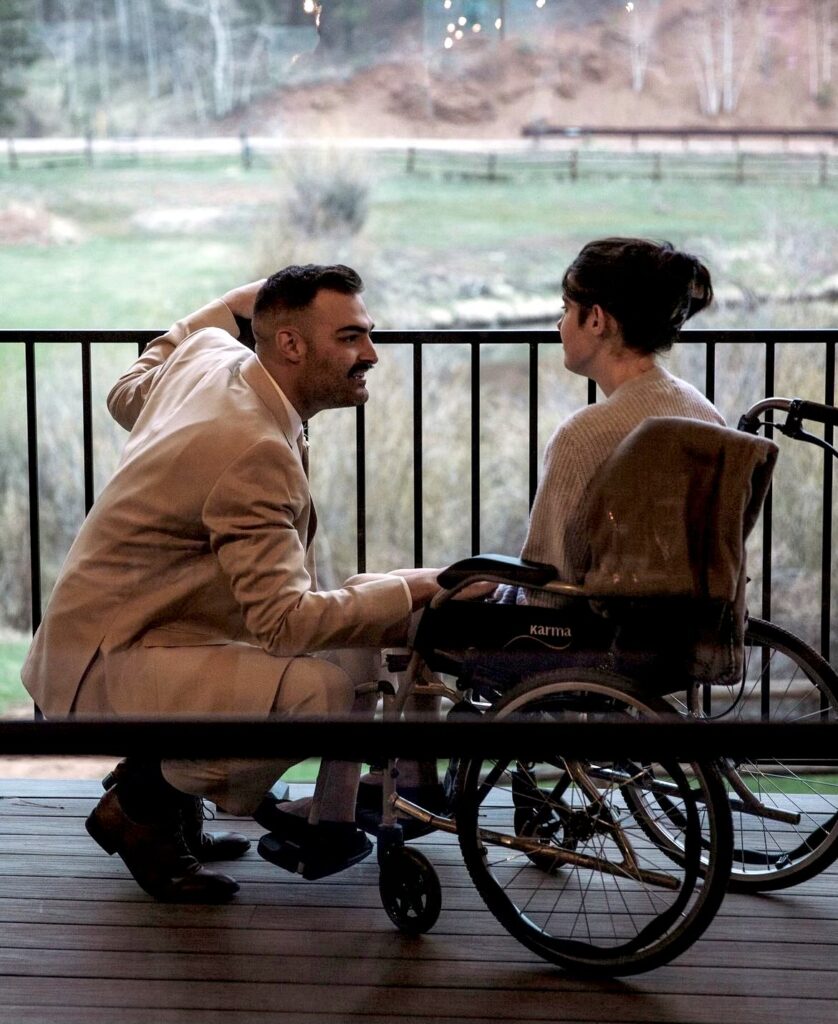 The Sunday matinee also featured Lytle Peet in person herself, answering questions from the audience following the movie. It was also one of the final theater showings on a nationwide tour featuring Lytle Peet, with a stop in New Haven, CT completed since and three showings remaining in New York City, Virginia Beach and Philadelphia.
The Warwick crowd, though, stuck out to Lytle Peet.
"It was heartwarming to see the theater full of friends and family supporting Elena and the Coccios," Lytle Peet said. "That is so very important for anyone facing ALS- it can be such an isolating disease. Everyone was so kind and motivated to help, which is just what we need."
For Lytle Peet, who first met Elena at the Cape Cod retreat, getting to see her and her family again was a special experience as well.
As for further advocacy, Liz, who has 17 years of experience fundraising for MS research, said that she'll be helping Her ALS Story and other ALS groups "probably forever."
The reality of ALS is a brutal one. The disease takes away people's ability to speak, grab objects, move and eventually, breathe. It is, in essence, all-encompassing. Elena, Stavenhagen and Lytle Peet harbor no delusions about what lies ahead for them.
For now, though, all they try to do is put one good day in front of the other. And in doing so, with a strength that cannot be measured in muscle mass and help from other women in their position and communities that care about them, they can keep moving forward.
And no matter the distance, they'll do it together.
You can donate to the Team Drea Foundation here, Her ALS Story here and the Rhode Island chapter of the ALS Association here.