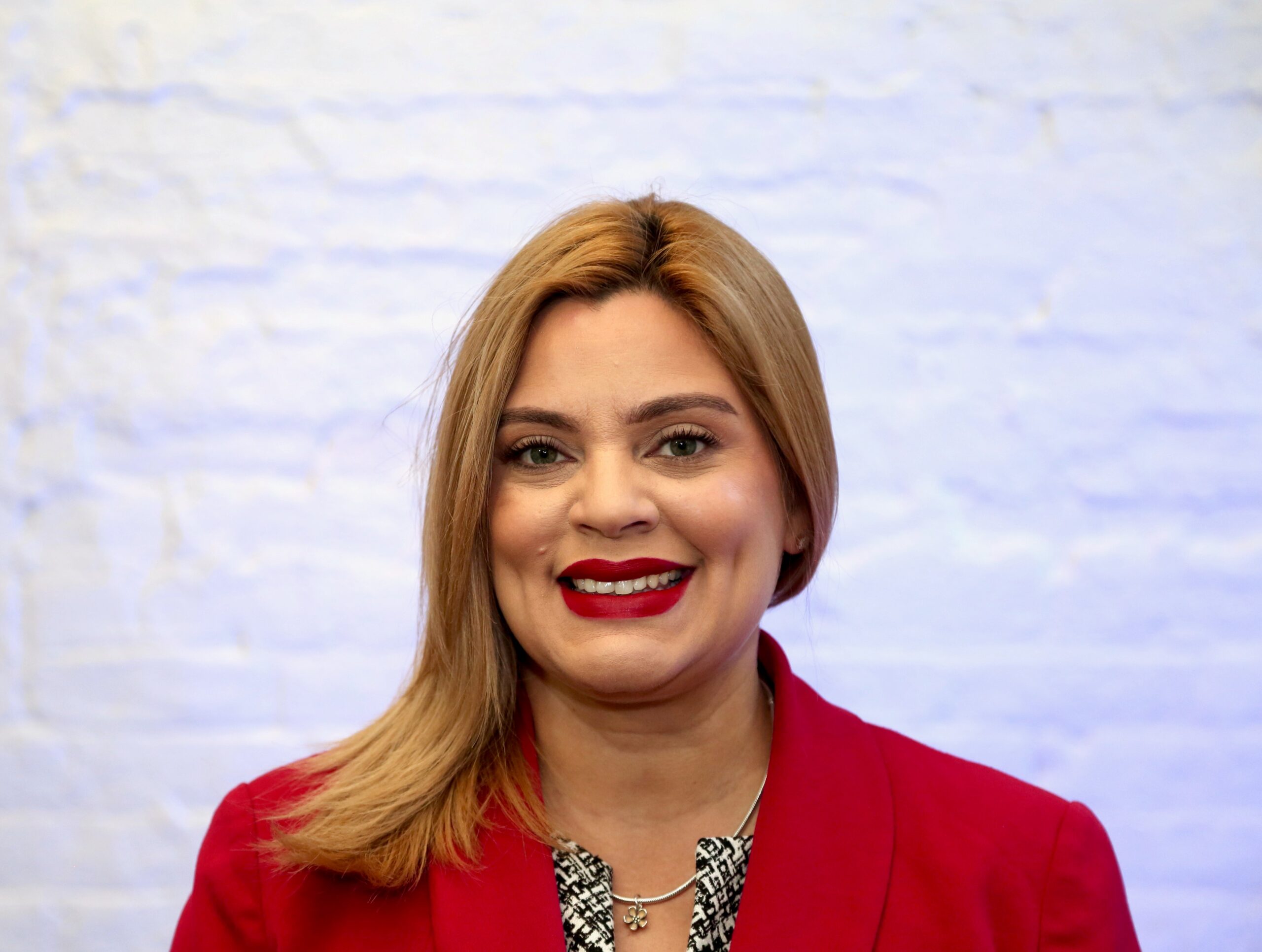 You are the mayor of Central Falls. For those who may not be familiar with the road that led you there, can you give us some of your background?
I've been a city resident since 1987, but my parents were originally from Puerto Rico and briefly moved to New Jersey where I was born. Soon after, we moved to Chicago where I grew up in a Spanish-speaking household, taking many ESL classes to keep up in school. Today, I'm very grateful to be bilingual – it's a gift also shared by so many of our residents (our city is two-thirds Latino)! I've proudly raised my two children here in Central Falls, and I'm deeply invested in empowering the next generation of young leaders.
Prior to being sworn in as our first woman mayor in January 2021, I was the first woman and first Latino City Council President. I mention that only because I believe representation is important, and when we see people who look like us in leadership roles, it's easier to envision yourself in that seat, too. I look up to so many woman leaders in our country and state, and I hope to help pave a path for more women, especially those of color, to lead in roles like mine that can truly make a difference in the lives of many.
You were sworn in as the city's 33rd mayor in January 2021, during a COVID 19 surge. What had you done to prepare for that?
Research was showing how much harder the virus was hitting communities like ours – with many residents of color and many who are low-income. In fact, Central Falls was the hardest hit globally at one point.
Before officially stepping into my role as mayor, I was focused on community outreach – listening to what our residents needed, and building relationships with key organizations that I knew could help us further support those needs because our resources were limited.
As council president, I rallied other community leaders and raised over $16,000 and purchased $250 Visa gift cards to distribute to more than 65 undocumented families. At that time, there wasn't any financial help for these families and they did not qualify for any unemployment benefits, so this was a little cushion of help for them.
I wanted to do all I could to support Central Falls. I advocated for our city to get access to the vaccine quickly. We became the first city to roll out municipal vaccine clinics for residents, and that was a complete boots-on-the-ground effort to plan, organization, and run. It was an amazing operation that had our city directors, employees, and community members all volunteering to support. I was so inspired by everyone's effort and collaboration. Being at all of the clinics was extremely important – we were combating misinformation and distrust around the new vaccine, and I wanted to be available to speak with residents and answer their questions, making sure they were comfortable. We door-knocked, visited businesses, and were always visible to ensure everyone could access the vaccine and other resources.
I made sure residents had my number and knew they could reach out. And they did. I was hearing story after story of families losing loved ones, while not being able to keep food on the table or have a consistent, safe home for their children. It was heartbreaking. I leaned on the relationships and partnerships I worked hard to foster early on to address many of our residents' challenges made more difficult by COVID, like food insecurity. We hosted food drives in partnership with the Elisha Project, for example, to pass out boxes of food while registering families for the vaccine.
How did taking responsibility at that terrible time affect you personally?
It was a very stressful time. On top of the COVID-19 surge, we saw back-to-back devastating house fires that displaced many families. The COVID pandemic and fires really spotlighted the housing crisis our city was facing. The virus was spreading at rapid speeds because of our extreme density – with many families having no ability to isolate – paired up against very limited but old housing stock. Our child lead poisoning rates also began skyrocketing, and that's something we started tackling as I took office, too.
I was so focused on helping others, but eventually found a balance of helping myself too – supporting my mental health through things like exercise. It helped me stay focused and better manage the stress of supporting a community hit so hard by this pandemic.
Central Falls was one of the epicenters of the pandemic. What steps did you take to protect the health and well-being of residents? What about the economic impact?
My first day in office, I merged our Office on Health with a brand-new Constituent Services Office. Our residents really had no central place to go when they needed help. Now, our new Office on Constituent Services and Health is a trusted place for residents to get resources they need.
It wasn't just our families that needed help – our businesses needed support, too. We prioritized education around grant opportunities, passed out test kits and PPE, and connected businesses to other resources. We launched a new position at our city – a bilingual Small Business and Workforce Development coordinator – to better listen to and meet the needs of city's businesses.
And the deaths and suffering of so many?
I will never forget the phone call I received from one family, where the children found their uncle deceased in their apartment from COVID. That still haunts me. So many families experienced loss.
Among the stressors of the pandemic, all of this was made 10 times more difficult because our city didn't have a single operating ambulance vehicle for eight months. As one of the busiest fire departments in the state responding to roughly 4,000 EMS calls a year, this was a huge challenge for us and our ability to provide life-saving services to our residents. Thanks to the incredible collaborative work of our Congressional leaders and Rhode Island Commerce, with our city's Fund Developer and the life-changing investments by our grant funders, we brought in critical resources to provide reliable emergency service with a new ambulance and other key resources for our first responders.
With such high rates of COVID and limited resources, partnerships became key to help address the needs of our community. We formed an amazing partnership with our local hero pediatrician, Dr. Beata Nelken, who has become a very trusted health care provider to our community, and we helped her access key grant funding to expand her practice's capacity for testing, vaccination, and more.
This is the third anniversary of former Governor Gina Raimondo declaring a state of emergency. Where do things stand now in Central Falls?
We're in a much better place now with COVID, but we're still working hard to mitigate its ripple effect on our families and economy. The housing crisis, which was exasperated through this pandemic, continues to be our biggest challenge. Not only do we need to add more affordable homes to our city, but we need to ensure our existing homes are actually safe for our families, because so many of them are old and may present lead risks to children. We've made big progress to tackle the lead issue – we're on track this year to certify hundreds of additional housing units to be lead safe. But our work is far from over.
And how would you assess the rest of the state?
I'm glad to see housing in the spotlight right now – it must stay there. This will hopefully help our city, and many marginalized communities like ours, start to climb back up from the deep devastation of COVID. Every family deserves a home that is safe, affordable, and supports their wellbeing.
Tell us about some of your priorities, which include empowering the next generation of young leaders, creating more affordable housing, and supporting the mental health and welfare needs of residents?
I'm very focused on creating more affordable housing in response to the extreme housing shortage that's worsened during this pandemic. We're working hard to bring some new housing projects to our city, make our existing housing stock safer through our lead-safe work, and create a one-stop community center to better support the mental health and welfare needs of residents. Our city has been without a community center for years, and we're finally making this happen! Our new community center – El Centro – will address so many of our families' needs, from physical and mental health resources, to domestic violence support, youth services, and more.
Our youth – and our next generation of leaders – are so important to me. We helped bring in $200 million for new construction and redesign of all public schools in our city, we're revamping and building new parks and recreation sites citywide, and have launched initiatives to motivate our youth that have even gained national attention, like our Leading Ladies Initiative (we pair students of color with outstanding leaders for unique one-on-one mentorships).
Central Falls is certainly a culturally diverse and rich city. For those who may not have visited Falls, what are some of the attractions people might be interested in?
We have the most amazing culture here! Our small businesses, like our restaurants, give visitors a taste of the world in our One Square Mile, celebrating so many international flavors and cuisines (Mexico, Colombia, El Salvador, Guatemala, to name a few!).
Salsa Night is a HUGE attraction here in the summer. We shut down the Roosevelt Avenue bridge and hundreds of people come out to dance the night away under the lights with live music, free salsa lessons, food and drinks, and more. It's so special. When I think about our city, I think about our COMMUNITY, and events like this truly celebrate that.
Now, Central Falls is even easier to get to! Our new train station right in our backyard gives our residents an easy way to get to Providence, Boston, and beyond – but it's also a great way to bring in more visitors to our city. I'm looking forward to the Conant Thread District thriving with our new transportation hub and the additional resources we're working to bring there, like housing.