Few incidents reported as residents settle in
This story originally was published in the Warwick Beacon, a publication partner of Ocean State Stories.
In the community room of the B Wing of the Motel 6, cartoons played in the background. A microwave and a thermos of hot water sat on the otherwise empty table. The wall is sparsely decorated with reminders of daily schedules and chores.
Melisa Lawrence has been living in the motel for a month through the program coordinated by OpenDoors RI, a nonprofit organization that operates multiple homeless shelters in the state. She sat at one of the small tables and ran her fingers through her auburn hair. She said she feels "safer here" and can "appreciate life more" than when she was living on the streets out of her car.
"Since I've been here, I've been reborn," she added. "I have that drive, that ambition, that extra push to get up in the morning."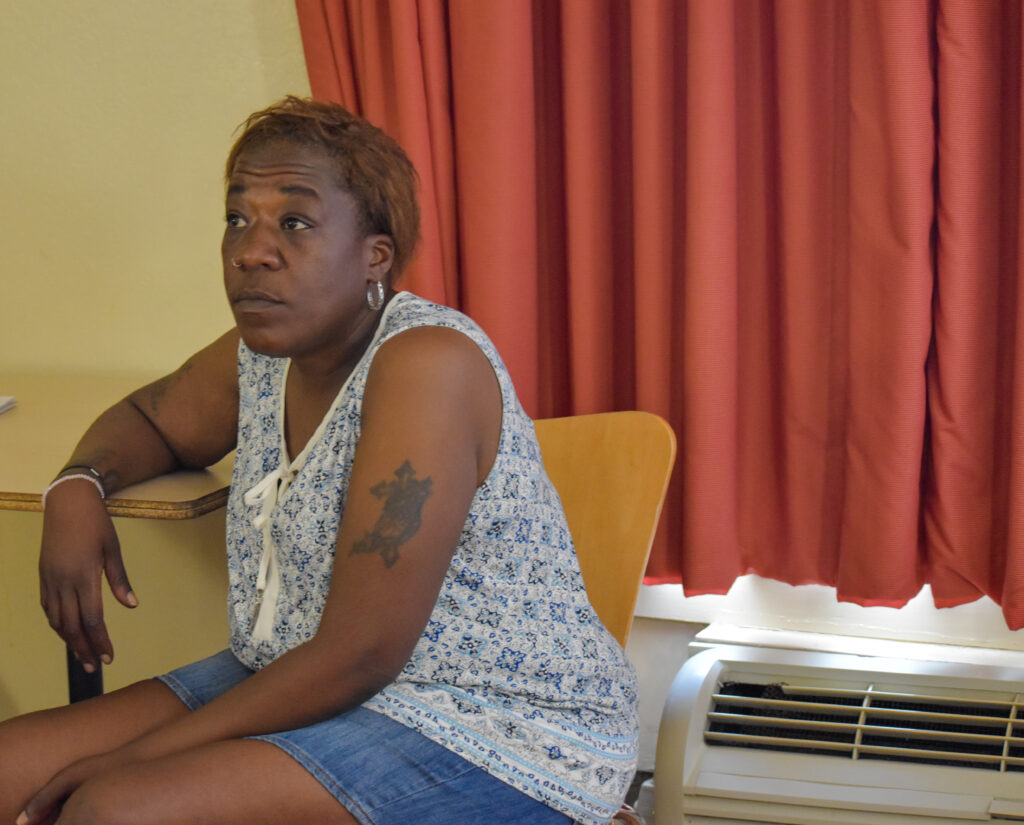 In May 2023, OpenDoors began operating a shelter for 85 unhoused people out of a wing in the Motel 6 through funding from the state housing department. Added to the 50 to 60 unhoused people who took up residency in the motel in November of 2022 through a program with Thrive Behavioral Health, a nonprofit focusing on supporting health and housing recovery, there are more than 135 unhoused people living in multiple sections of the motel.
Nick Horton, the co-executive director of OpenDoors, said the Motel 6 population is constantly "in flux" due to the transitory nature of homelessness. He added that while the beds offered by OpenDoors were originally designated to be filled by those relocated from the Cranston Armory, they were later opened up to the Coordinated Entry System– a statewide "database that assesses, prioritizes and refers people who are chronically homeless to shelter beds."
While OpenDoors typically provides services to those who were formerly incarcerated, Horton emphasized that not all clients at the Motel 6 have a criminal record or are struggling with addiction. A lot of the residents are chronically homeless.
Steven Osler has been homeless since 2000, with a brief stint between 2015 and 2019 when he had housing. After being evicted in 2019, he occasionally stayed in the Cranston Armory but described it as a "free for all." Osler added that there was a lot of drug and alcohol use in the Armory in addition to delays in services. He put up with the conditions because it was a place he could stay during the day, especially in the cold.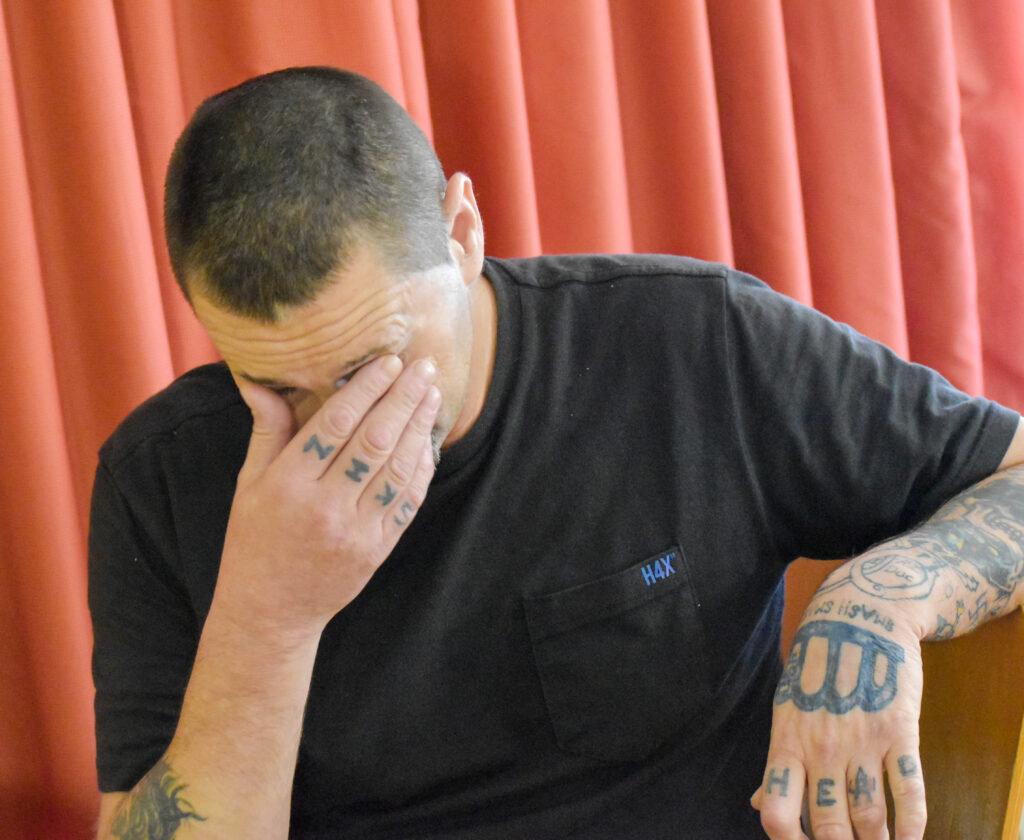 "When you're homeless, you really don't have a choice," he said, looking down at his tattooed hands.
Osler said he's grateful for OpenDoors, especially for their attentiveness. In addition to meeting basic needs like three meals a day, a warm bed and toiletries, he said that the staff members "respond quickly" and are always available to talk. They also have been helping him search for longer term housing.
"I'm safe here," Osler added. "They're strict with their rules but I don't mind taking off shoes and getting patted down. I'm grateful for that."
Lawrence agrees that OpenDoors has been working wonders.
"OpenDoors is the best name for this program because it does open doors," Lawrence said. They're open, but you've got to be ready to walk through them."
Almost Two Months In
When the expansion of shelter bed offerings at the Motel 6 was first proposed, some local businesses and officials expressed concerns about safety and a potential for an increase in crime. So far, the data has not supported these concerns.
Sergeant Matthew Moretti with the Community Service Division of the Warwick Police Department said that the number of reports and incidents in the area is on pace to be the same as the 2022 figures. In 2022, there were 7 field reports, 88 incident reports and 74 arrests in the area, with the severity of the category rising accordingly. So far, in 2023, there have been 12 field reports, 58 incident reports and 35 arrests. While the zone he's drawing this data from encapsulates a radius larger than just the Motel 6, Moretti said that the fact that the data is pretty similar year to year means that the increase in the unhoused population in the area is not intrinsically linked to increased crime.
"There's been no significant rise of any kind," he added.
Moretti also made note that there are 12 registered sex offenders living in the motel this year after not having any previously. He said that so far, there are "not any issues with sex offenders at the facilities" and that the dedicated unit within the police force is monitoring it.
Moretti believes that the Warwick Police's "high visibility" is partially responsible for the lack of incident increases in the area.
"Everyone knows we're out here," he added. "I think that has a lot to do with the amount of crime, especially in this area because they are so visible to the public.
He said that the area was a busy beat prior to the addition of more shelter beds to the motel, and his officers were used to dealing with the "transient traffic" of hotels. Moretti said that his officers "kept doing what they were doing," not changing their strategies.
This is not the first time the state has turned to hotels to serve as homeless shelters. During the COVID-19 pandemic, the NYLO hotel in Warwick was converted into a temporary shelter managed by Crossroads RI. The operation closed in April 2022 after years of providing shelter.
Morreti said that the NYLO and Motel 6 are "apples and oranges." NYLO is surrounded by residential neighborhoods whereas the motel mainly has businesses close by. He said that a lot of residents around NYLO were concerned about their homes and people loitering on private property.
When the police force started receiving higher frequency calls for service in the area around NYLO, they drew upon community, traffic and beat officers to increase police presence. So far, the motel does not need additional attention.
"We haven't seen an uptick in anything that would make us need to put more officers in that area," Moretti added.
John Pelland, a resident of the OpenDoors wing of the motel, lived in NYLO while it was still operating. He recalled drug addicts not being checked for substances and instances of violence. He said that in his experience, the Motel 6 is much cleaner and a better environment overall.
Moretti noted that in his conversations with the business communities surrounding the Motel 6, some were initially concerned about loitering. Precious Angel's, a child care center, is a stone's throw from the back fence of the Motel 6. Just down the road is another daycare center, the Learning Experience.
Erica Slader, the manager of Dogtopia– the business right next to the motel, said that there were a few instances in May of people wandering into the business to the point that some of her front desk staff felt uncomfortable. Slader said that it's quieted down. "I think everything is starting to be more under control with it," she added.
Intentional Support
Both OpenDoors and Thrive have been mindful about the way they service Motel 6 in an effort to mitigate disruptions and maximize support.
"The problem with crime, drug use and disturbances will be worse if we don't provide shelter," Horton said. "It's not really a question of whether or not we want to deal with the problems that sometimes come from having a homeless community or encampment, it's just a question of whether we want to deal with them well or ignore them."
Dina Bruce, Deputy Director of OpenDoors and the point person for the operation within the Motel 6, said that she was aware of the Motel's reputation for "prostitution and drugs," so she was determined to "set a firm tone."
"Nobody ever wants a shelter in their backyard," Bruce said. "I do my best with all of my shelters to try to minimize the impact that it has from us being here."
For example, they have contracted security professionals to monitor the grounds between 6:30 pm and 6:30 am in addition to the presence of OpenDoors staff including shelter monitors, program directors and case managers. There is a curfew, designated outdoor seating areas to discourage loitering and a drug and alcohol free policy that is strict and binding. In addition to all of these measures, Bruce added she's noticed the police riding through the area multiple times of day.
Gidget D'Amato, customer service representative at the Motel 6, has worked there for 5 years spanning multiple state programs, and she said that she is impressed by the OpenDoors program. She admires their policy enforcement.
"I haven't had problems with drugs," D'Amato said. "I haven't had problems with anything negative since they moved in. Everything's been positive."
D'Amato also lives "right up the street" off of Jefferson Boulevard and has never had a problem. She added that her landlord owns a lot of property in the area, and he has never had an issue either.
"They are just wonderful," she said. "They're very grateful for the roof over their heads. They're very grateful for what they have right now. I always hear them saying thank you, thank you, thank you."
In addition to housing, OpenDoors provides a series of programs at the Motel 6 to support their clients. For instance, Bruce said that they offer peer support, employment support, recovery meetings and encourage their clients to detox and treatment.
Lawrence appreciates the care and respect that the staff provide, saying that "here, I'm treated like a human." She plans on staying between four and six weeks before moving into more permanent housing.
"There's nothing you can't do without the help of the program," she added.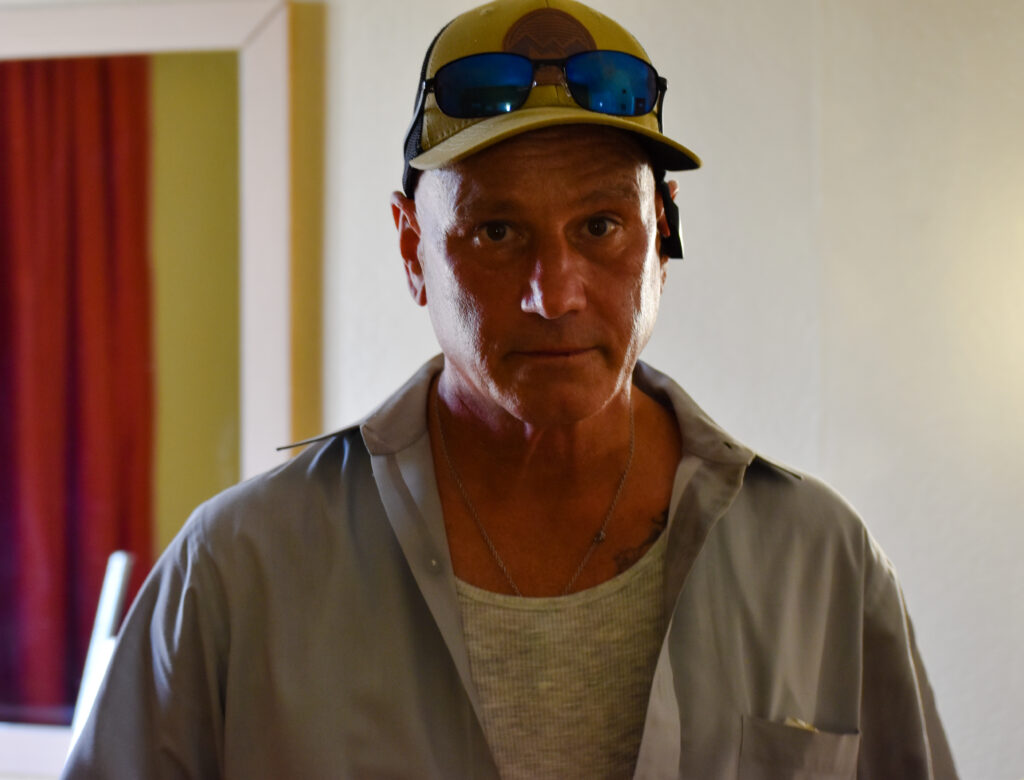 Pelland agrees, describing the staff as "non-judgmental" and "supportive." As a diabetic who is prone to seizures, Pelland receives nightly wellness checks and has a fridge to keep his insulin in.
When he moved into the motel, he said that he "almost cried because (he) didn't think it was real." While on the streets, Pelland survived the harsh winter conditions and got jumped and robbed. Now, he sleeps "better than ever."  
Statewide Crisis
Juan Espinoza, Communications & Development Manager for The Rhode Island Coalition to End Homelessness, said that the state's homeless numbers is the "highest we've ever seen."
He said that 5 years ago, the total homeless population was a couple hundred. Now, it's in the thousands. Citing the coalition's 2023 Point in Time Count, Espinoza said that there are 1,810 unhoused people, and that is likely an undercount. Of the total 334 are unsheltered, a 370% increase from pre-pandemic numbers.
Espinoza believes that this increase is due to a combination of factors including housing shortages, rent spikes and evictions.
"COVID-19 exacerbated situations and laid bare a lot of realities and disparities that we have in society," he said.
In a crisis like this, he added, it isn't uncommon for organizations to search for temporary solutions. Espinoza said it makes sense that organizations use hotels if they're available because people can have their own rooms and their own spaces.
To Espinoza, "we need short-term support and long-term solutions."
Horton agrees, adding that shelters like the one OpenDoors provides at the Motel 6 are critical now more than ever.
"People are much more likely to go into recovery, to find a job, to stay stable, to find housing that's more permanent if they're not dealing with these problems from a place of chronic homelessness," Horton said.