New books and TV series help break gender stereotypes and empower women
Coinciding with the rise of "booktok," a wave of 15-second videos consisting of book reviews by enthusiastic Gen-Z and Millennials alike on the social media platform Tik Tok, there has been an increase in female representation in the literary world. Stores sell books featuring women on the covers, female characters are the newfront runners of Closed Door Rom-Coms, and female-narrated thrillers have audiences glued to their seats.
Carefully crafted by leading female authors including Taylor Jenkins Reid and Jodi Picoult, these works demonstrate how breaking gender stereotypes helps women achieve control on how they manage their lives. As a result, many young women have found a piece of themselves represented in various female-oriented storylines. Said Katie O'Farrell, a rising sophomore at Salve Regina University: "My favorite author is Taylor Jenkins Reid, because I feel as though she depicts female characters in empowering and well-rounded ways."
The New York Times bestselling novel Daisy Jones & the Six (2019) demonstrates the uniqueness of women owning stories, notably in Daisy's defiance during a scene outside a local Los Angeles diner where she angrily states: "I am not a muse. I am the somebody."
This scene depicts young Jones advocating for singing and songwriting rights as many men use her songwriting to make a fortune off her in the music industry. Reid's portrayal of Daisy demonstrates the lows that countless women have to endure in order to get their foot in the door, including the fights over intellectual ownership that many women across creative industries face to this day.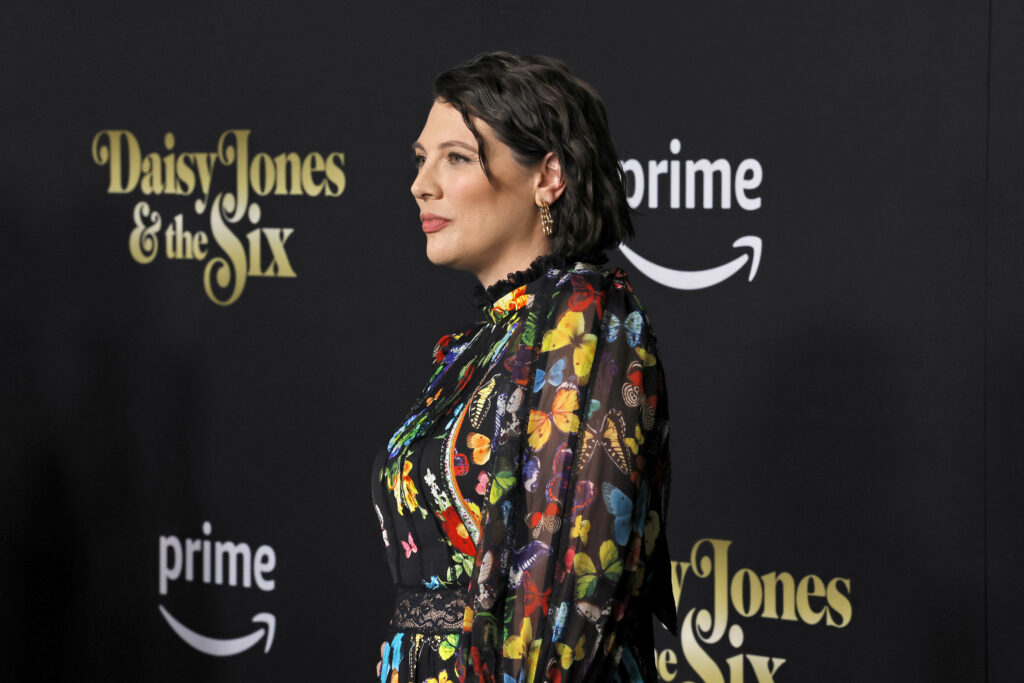 The novel and the Amazon Prime Video series drawn from it embody the 1970s as a defining moment for women wanting to get their foot in the music industry. Much like countless female-driven novels, Daisy's hardships seek to place her in a greater position of leadership as she continues to advocate for the voices of women in and outside the studio through her interactions with band members Karen Sirko, and professional photographer Camilla Alvarez.
In an article published in Variety, actors Riley Keough (Daisy Jones), Suki Waterhouse (Karen Sirko) and Camilla Morrone (Camilla Alvarez) discussed the themes of representing women, agreeing that having women at the forefront of stories not only benefits the story but helps other women succeed with one another as counterparts in their own daily lives.
While the shift between nonfiction and fiction storytelling is often drastic, the continued increase in female representation in the literary world has also given countless young women a place to connect on a deeper level and has translated onto the political stage and television sets.
Steven Porter, owner of Stillwater Press, a book store and publisher based in Rode Island, said in in interview: "Today's modern authors have brought strong female leads to the forefront which provide stronger, more positive role models for teens and younger women. Their challenges tend to be more realistic and relevant to the situations women are currently facing."
In Picoult's case. many of her characters are faced with challenges such as dealing with one's bodily autonomy, race relations, religions and feminism — themes frequently discussed today, regardless of one's age, gender or race.
On the biographical side of storytelling, women ranging from journalists to filmmakers have written stories through their own lenses about what it means to be a working woman in today's fast-paced world.
In an interview, Clarissa Ward, CNN Chief International Correspondent and author of On All Fronts: The Education of Journalist, mentioned that putting women at the forefront of stories has been one of her lifelong missions. Traveling to remote countries such as Afghanistan, Iraq and Syria, where many women are unable to leave the home due to fear of violence, Ward tells the stories of women who are often hidden within a society.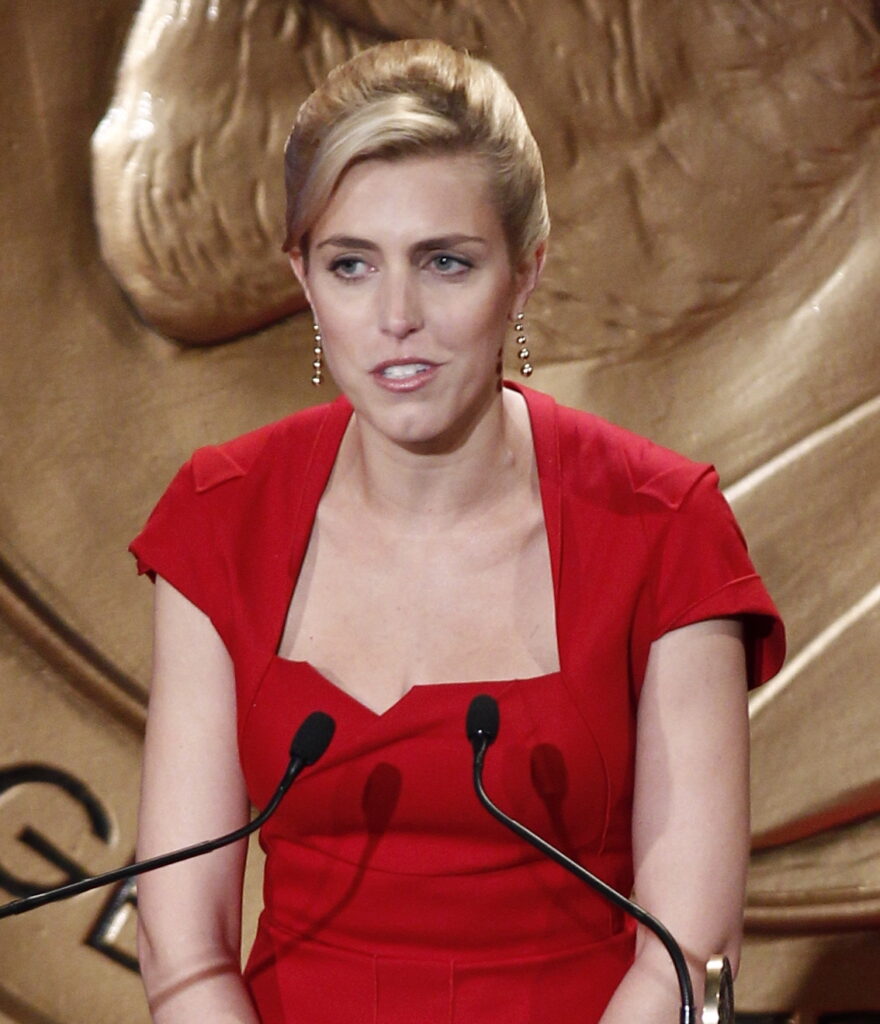 Ward highlighted how women are most often "secondary story" when the media has reported on war by including the media's greater coverage on high-status politicians' military defense strategies rather than the individuals missing out on an education due to countless bombings of educational centers, literary spaces that implement long term gaps in general education, and emphasizing young girls' inability to participate in such spaces.
In writing her memoir, Ward noted that the writing process was initially to speak about her experiences in war zones. It wasn't until well into the writing process that women, whose lives are often jeopardized by armed conflict, became a recurring theme and grew out writing her memoir.
When asked how one connects with the values of strong female characters, Salve Regina sophomore Rebecca Dawson said: "So often women are painted as subordinates, especially in contemporary young-adult novels, so connecting with strong female characters is something I absolutely love when reading!"
While these literary examples highlight a growth in societal understanding that young female characters are reflected in different literary realms into the lives of women throughout 21st– century society, it still highlights a question of who should be gaining more access to such stories. And it may not always be who we expect.
A study completed by the Barbara Bush Foundation concluded that about 20.4% of Rhode Island's general adult population have scored "below basic reading levels," with 49% of African Americans and 50% of Hispanic fourth graders across the state listed as below basic levels. While the study did not give additional data based on gender, it demonstrated that while the increase in female representation in the literary world has increased, socioeconomic disparities across the state still limit the chances of young girls of color being inspired by authors with empowered female characters.
In a 2020 press release, the Barbara Bush Foundation noted that one of the crucial factors that contribute to illiteracy is the reflection of the women's educational levels in the household. Chances are, if a mother is unable to read, her children will have more difficulty gaining a literary grasp across English classrooms regardless of the child's environment and family income.
To understand why such figures reflect the importance of literacy rates, we must understand some of the core challenges on how to combat this statewide issue. Among the lack of educational resources, illiteracy is directly connected to a health issue. The Barbara Bush Foundation's Gap Map, an interactive database whose mission is to highlight the challenges surrounding illiteracy across the United States, mentions that adults who score "below basic reading levels" are five times more likely to have poor health levels than adults who scored average reading levels. Without literacy, women are unable to gain access to an education and independent incomes, which can then lead to poor access to various educational, hygienic and economic necessities to support their families across the state.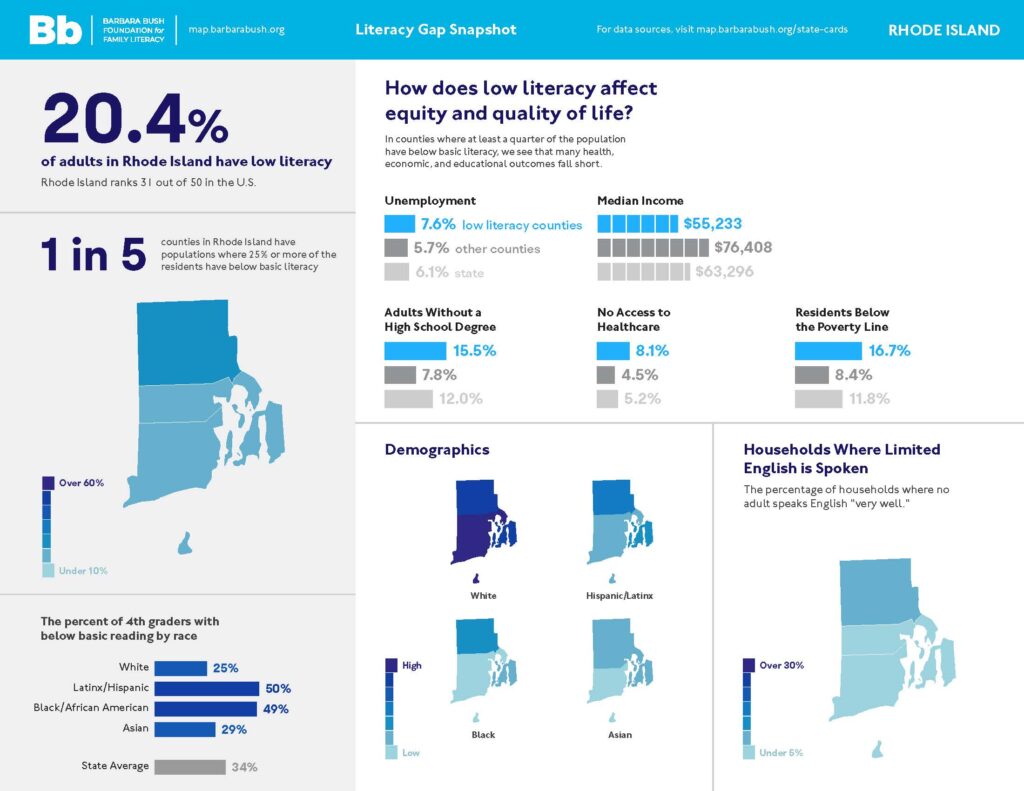 Although this may be a small problematic piece of the pie, the challenges that the state of Rhode Island face to combat its minority literacy rates reflects our world today. In 2015, a study conducted by the United Nations Sustainable Development Goals (SDG's) identified that 496 million women over the age of 15 had poor literacy compared to the male counterparts that account for 285 million, with high concentrations of low literacy rates in nations with high levels of armed conflict and the climate crisis. Illiteracy among girls and young women make them particularly vulnerable to gender-based violence, child marriage and early pregnancy.
While there are many ways to address these issues, researchers at UNESCO and organizations such as UNICEF have determined that investing in female-driven educational centers will have a long-term positive impact on Goal Number Four, which states that all humans regardless of where they live deserve a quality education. By having international bodies increase support for global literacy, organizations such as Education For All (EFA), UN Convention on the Elimination of All Forms of Discrimination Against Women (CEDAW) and UN Convention on the Rights of the Child (CRC) all support this particular sustainable development goal to increase access to an impactful education as well as increase literacy across the board. As part of UNESCO's Literary Assessment and Monitoring Programme (LAMP), by having numerous UN member nations implement literacy in education as part of their national agendas, its impacts will reverberate locally and nationally.
In the United States, investments in gender-based national literacy initiatives have demonstrated increased literacy levels among communities of color and lower socioeconomic brackets. Organizations such as the Barbara Bush Foundation set up the National Literacy Directory and have established over 11,000 literacy centers across America. According to the foundation, these centers give families direct access to proper educational materials, including books filled with various genres.
Experts agree that the increase in female representation in the literary world is essential for all female audiences, regardless of one's socioeconomic background. By highlighting the necessities of having both fiction and non-fiction female characters represented in the literary world, including the fearless singer and songwriter Daisy Jones and CNN war correspondent Ward, women are an essential piece to pushing society forward.
Without these efforts, raw storytelling of women could lead to overshadowed stories that are vital to society's understanding of one another in spaces where they are most needed.